How H-Hotels started driving incremental revenue with upselling
Marieke Wisse •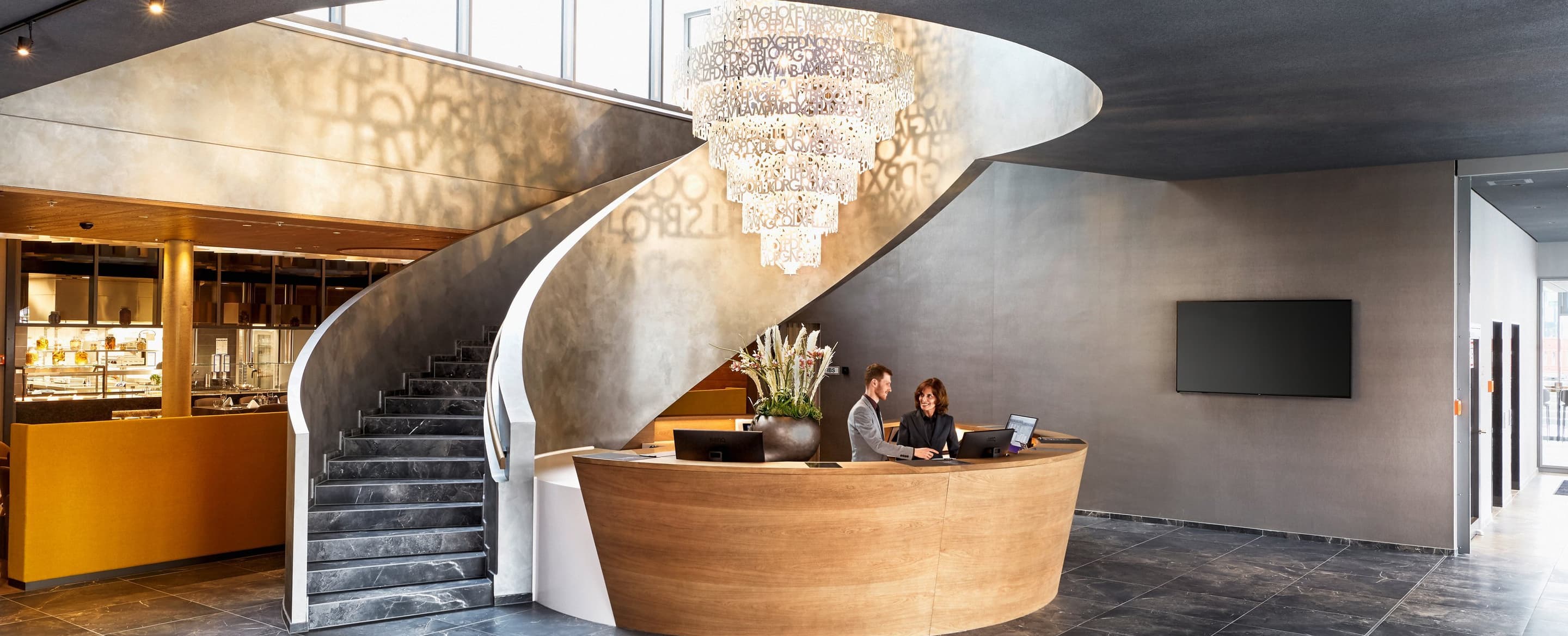 As a hotelier, you're probably looking to do two things: find new ways to make sure your guests have a great time and increase your revenue. Deniel Frey, VP Revenue Management at H-Hotels, shares how he did this through upselling with Oaky.
A quick intro to H-Hotels
An independent hotel group based in Germany, H-Hotels offers guests a selection of six modern brands with innovative service offerings and contemporary design. They are known for their personalized service and bring their unique approach to hospitality to cities around Germany, Austria, Switzerland and Hungary. Their dedication to innovation drives H-Hotels to regularly test and invest in new tools and ways to improve the guest experience and the company's bottom line.
Now, on to how Deniel and his team at H-Hotels tackled upselling.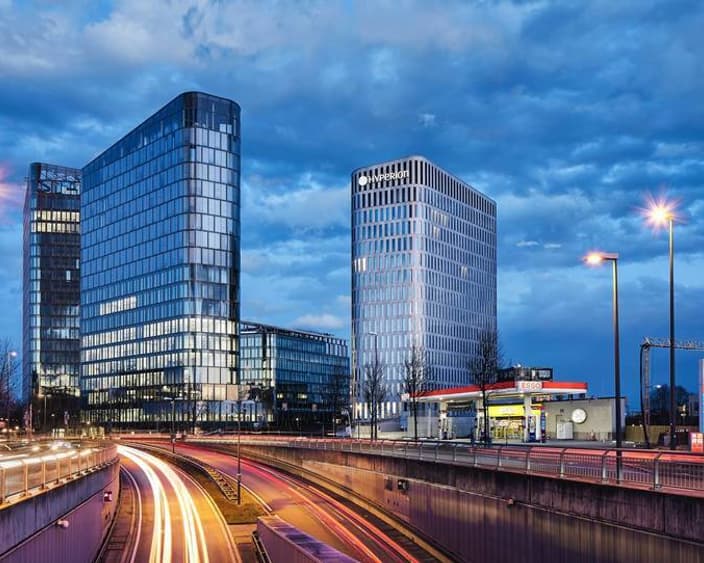 HYPERION Hotel München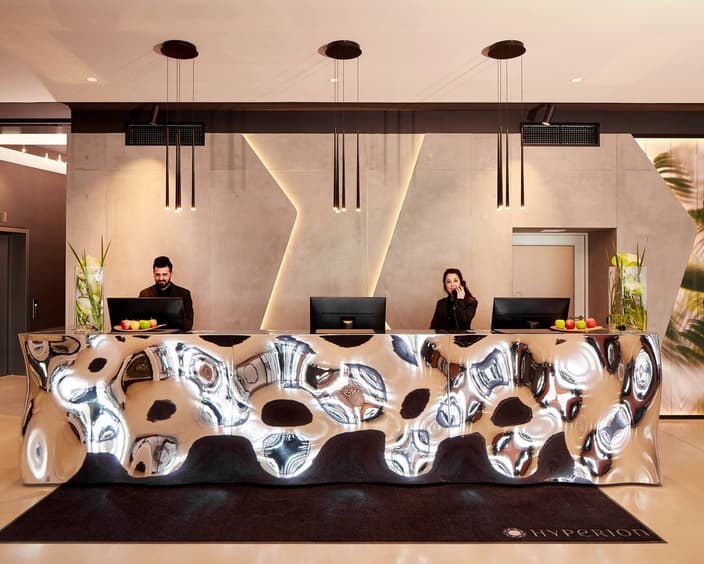 HYPERION Hotel München
The goal: to create a win-win situation for guests and hotels
The team at H-Hotels started their upselling journey to create a win-win situation both hotels and guests could benefit from. For guests, this meant getting access to a selection of personalised offers that would help them enhance their stay and have a better experience. The hotels benefit from this because ancillary revenue increases from selling these offers and satisfied guests return or leave great reviews online.

When they started upselling, H-Hotels' team did all its upselling manually. This meant the pressure to upsell was always on the front office staff.
"We had to concentrate on Front Office upselling during check-in, which of course is not always easy since guests do not want to wait patiently while the clerks are trying to sell them a higher room category or extra services," Deniel recalls.
When guests did opt for the paid upgrade, this often led to delays while the new room was being prepared. Unsurprisingly, this approach had a lot of room for improvement in terms of both increased revenue and improved guest experience.

Since Deniel and his team knew that upselling can bring great results, they looked for ways to improve their approach and create a better experience for their guests and staff.
This is when they learned about upselling platforms which fully automate pre-arrival upselling via emails delivered directly to guests booking direct or via an OTA. Since this system makes upselling much easier, more efficient and effective, Deniel decided to give it a try.

Uplift in incremental revenue
Shortly after implementing Oaky, Deniel started seeing results: "We have seen a nice uplift in ancillary revenue several of our properties. Using Oaky helps us drive incremental non-room revenue and it lets us boost our ADR via upselling guests to a higher room category."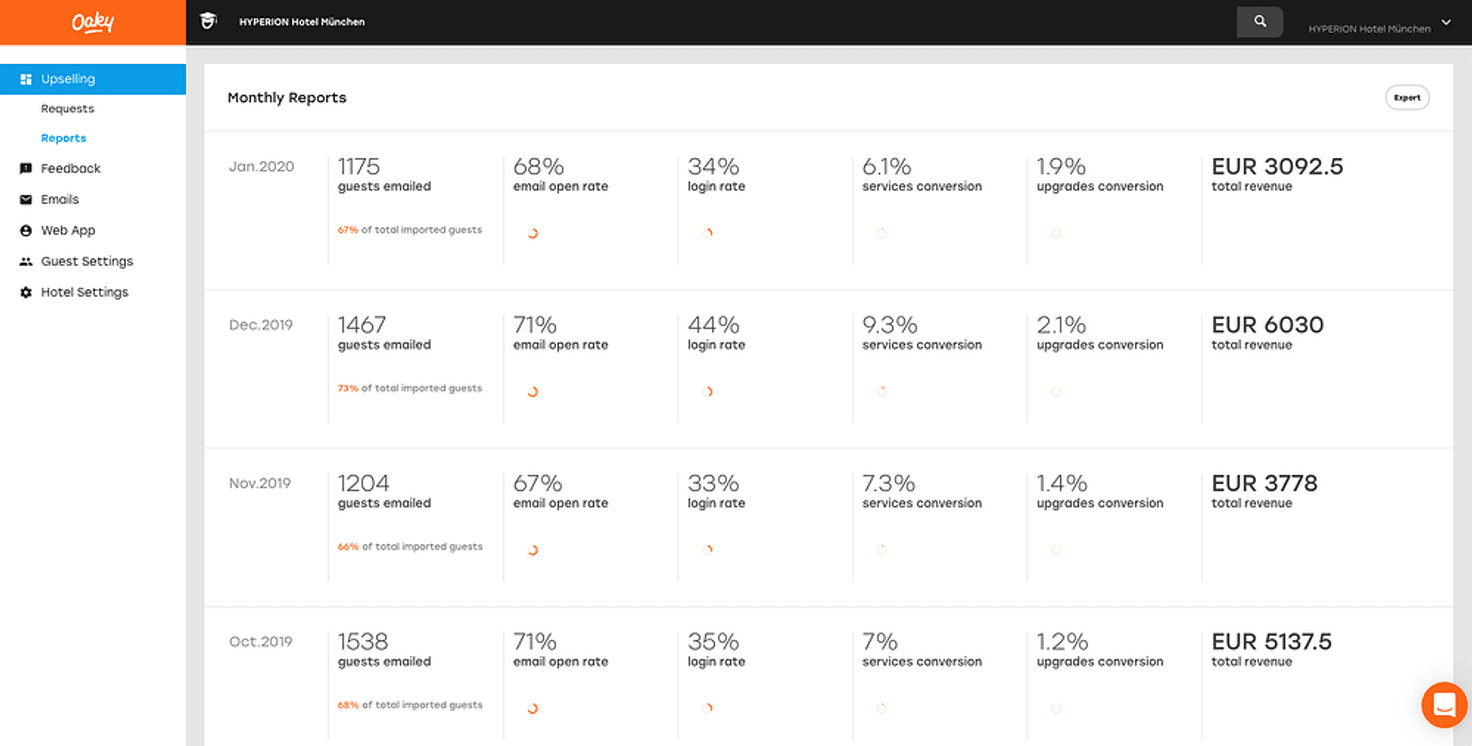 Reporting dashboard HYPERION Hotel München
Now that H-Hotels recommends a paid upgrade pre-arrival, more guests go for it. This means the hotels can resell the lower category rooms and have the right room ready for the guest on arrival.
Reaching out to guests before their stay has also given H-Hotels the opportunity to promote departments like F&B, the spa or services such as airport pick-up. For example, Deniel revealed that his groups' best-selling deal is a car parking package at the Hyperion Hotel in Hamburg.
Flexibility in creating and updating offers
To make sure they always promote deals their guests are interested in, Deniel and his team optimise their offers by checking their upselling system's conversion data.
"Oaky helps us identify services which are not requested very often, so we can replace them with something our guests will enjoy more. On top of that, we can check if our category supplements are too cheap or too expensive and make adjustments," Deniel explains.

Best & worst performing offers
This can be done in only a few clicks and allows hotels to make price changes depending on the demand for an offer or service and its availability. The goal here is to maximise conversions as well as revenue generated.
This flexibility is something Deniel really appreciates: "The look and feel of Oaky and the flexibility in changing prices and updating packages is great because it makes it very easy for us to react to our guests' demands and get the most out of every upsell."
Improved guest and staff experience
Automated pre-arrival upselling is easier for the staff and more pleasant for guests. "Using an upselling platform takes some of the burden off the front office team and guests don't feel pressured during check-in anymore," Deniel says.
Now, the receptionists can fully concentrate on the client's needs during their arrival while guests have time to plan their stay well in advance and select all the deals they want whenever they want.